Bad Jobs.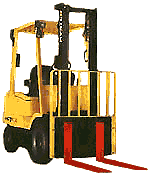 I was watching this show about the worlds worst jobs and one was this Icelandic fisherman deal. I couldn't believe the lives these guys live. On 13 days, off 3. They work 6 hour shifts and off 6 hours, and every week each guy must work a double. Its nuts! It got me to thinking about my experiences in the work place. I have had many different jobs in my almost 34 years. My current "job" is by far the best and most rewarding (I'm in ministry). What did I do before? Well,
here is an exhaustive list of my different jobs from best to worst...


Camp Maintenance Guy
- for 2 summers ('88-'89) I was incredibly under-paid but very satisfied. I met people from all over the country and experienced summer camp for 10 weeks of the summer, and I was (under)paid, beautiful.
Golf Course Maintenance
- what I like best about this gig was the literal beauty of the golf course. I had to be at the "office" by 6 am and I was given the bottom feeder stuff to do. I was a real bad employee in that I was super slow (lazy) and really young (19). I got fired after I caught an area of the rough on fire. That too, was beautiful.
Forklift Driver
- this is what I would call "Costco Seminary". This is where I grew up and learned what it meant to be hard worker. Often times I had to be at work at 4-5 am. This is where I decided I would obey the call of God on my life and abandon the desirable warehouse life.
Pizza Delivery Guy
- I had 2 stints as a pizza delivery guy. First was at Pizza Hut and second was at some local joint. I kinda liked this because the pay was pretty good for a college kid, and I got to listen to the radio a lot. Gas was also a lot cheaper at this time (like .89 a gallon).
Deli Guy
- for a few months I was a sandwich maker at Publix (a Florida grocery chain). The only good part of this job was the freebies we got. I also learned to use one of the deli-meat slicers.
Bag Boy
- at the same Publix where I worked in the deli, I was a bag boy. This was dreadful. I really struggled with the old people asking for paper or plastic or telling me how to pack their groceries. Back in the day we had to "dress up" in these cheesy outfits. Pay stunk too.
Ditch Digger
- need I say any more? I remember one time digging ditches from 7 am to 5 pm in the scortching Florida summer sun. I chose to take my shirt off that day. One of the worst decisions I have ever made in my life. I didn't go in the next day because my skin was pretty close to falling off.
Construction Cleanup Guy
- in my mind right up there with the Icelandic fisherman job. This is where I learned every four letter word known to man. Honestly, I don't really want to discuss it any more, bad memories, really bad.
**So, what are some of the bad jobs you have had? Anyone work at a solid waste place?